<![if !ppt]> <![endif]>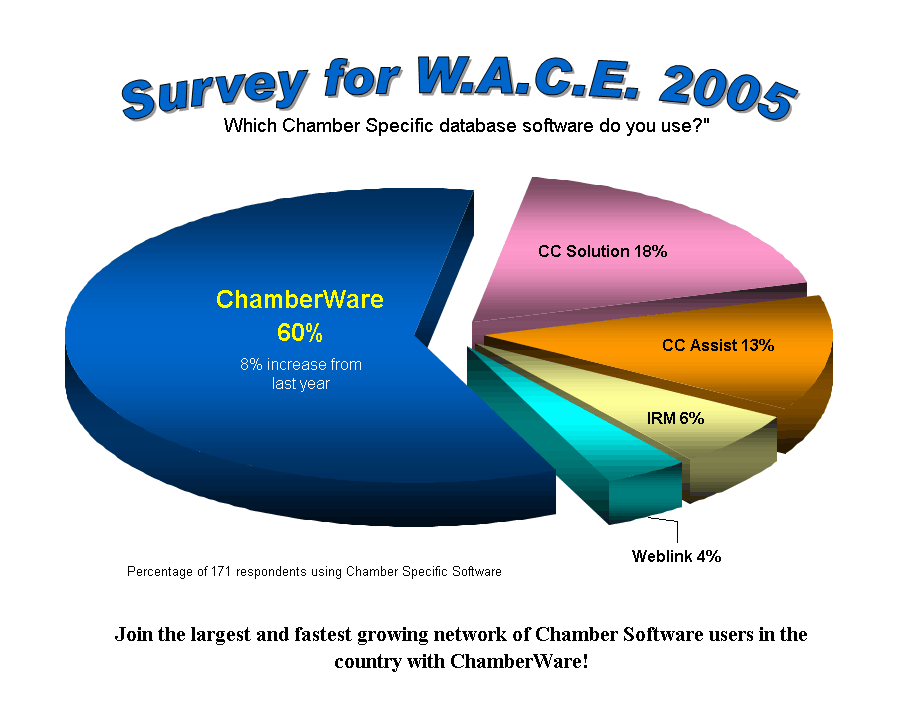 ---
This graph was taken from the WACE 2005 technology survey, which asked Chambers what database software they utilize. As in every other WACE survey, ChamberWare is number 1 and continues to steadily increase in market share.
The WACE conference along with ACCE are the largest two Chamber conferences in America. About 450 participants were at this year's conference. Underscoring our commitment to Chambers of Commerce, this was our 14th year with WACE. 14 years in a row we have exhibited our software at this premier gathering of chamber executives!
WACE has conducted an annual survey over the last several years and its release is one of the highlights of the convention. In the survey a question is asked:
"Which Chamber Specific database software do you use?"
The answer this year was even more telling then previous years. ChamberWare has always been first in the poll by a large margin. This year however shows that ChamberWare is being used by more than 60% of all WACE chambers with Chamber specific software. Clearly, more Chambers use ChamberWare than all competitors combined!
Indeed ChamberWare is the #1 Chamber Specific database for progressive thinking Chambers of Commerce!